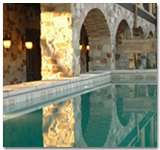 Pacific Pools of St George, Inc. was started in 2005. We strive for excellence in building and customer service. Our company builds in-ground Gunite/concrete, vinyl liner, and fiberglass pools, water features, decorative fountains, and splash parks.
Jeff is currently a member of APSP (Association of Pool & Spa Professionals) and has his CBP (Certified Builder Professional) certificate.
In 2010 Pacific Pools of St George, Inc. won an Aqua Choice Award for a concrete pool and spa that was built in Southern Utah.
http://aquamagazine.com/post/Award-winning-St-George-Utah-residential-pool-project.aspx
In 2011 Pacific Pools of St George, Inc. won a Bronze APSP Award of Excellence for the freeform vinyl liner category.
Pacific Pools has built projects from very small back yard water projects to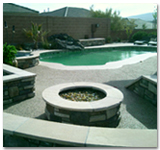 high end commercial work. We have a business plan to grow our market, share at a steady rate, but also making sure that we don't grow so fast that we are unable to oversee the quality in every project.
Jeff's background is in Manufacturing Engineering and Computer Science. He worked as an Engineer for Hewlett Packard in Boise, Idaho from September 1981 to June 2005. With his engineering background he has instilled in our employees the importance of excellence in water circulation and filtration and designing for the most energy efficient systems possible.
Jeff not only is one of the owners and president of the company, he also does sales, the majority of our designs, and also is on the job site working alongside our crew. He is very hands on and wants to make sure we provide the highest quality results to our customers.
Sandy was the Idaho coordinator for foreign exchange students for many years. She interacted with the people of Idaho, and her partners in the USA, France and Spain. Sandy is the majority owner of Pacific Pools of St George, Inc and runs our office, and handles sales as well.